Doors Designed for Better Buildings
View the different door solutions we offer for more efficient, practical buildings. 
We're proudly partnered with Titan Overhead Door to provide you with the best overhead doors for every application. View our line of commercial overhead doors by clicking the button below. 
Folding doors to meet any application
FinDoor's folding doors are industrial grade doors for use, for example, by workers in the trades. They are durable and so light in construction that even a big door can be operated manually without much exertion.
Withstands weather and wear
The folding door holds up under heavy usage day after day without needing continuous maintenance. It is an excellent choice as a door on, for example, barns, fire stations, airport buildings, fabrication plants and carwashes. The core of the door is a thermally insulating material that does not absorb water, and that core is clad in sheet steel with a treated surface. Whenever the door is opened or closed, steel hinges lift the door off the floor, keeping the weather-stripping on the door bottom in good condition and also making light work out of using the door. The weather-stripping, being made of EPDM rubber holds up well in extreme conditions. If needed, you can also get an entry door in the folding door itself, plus you can get fire resistance for your door up to a classification of EI30.
Waste not
Findoor's folding doors help prevent the transmission of heat throughout the year bringing savings in heating and cooling costs, for the weather-stripping tightly seals moisture and outside air away from the interior.
The male and female design weather-stripping between panels as well as the door edging weather-stripping squeeze tightly against the critical surfaces when the door is closed, and immediately separate from each other when the door is opened. The final result is a weathertight, heat transmission blocking door with weather-stripping that is good for many years. The folding doors furnished with windows are also very weathertight. In the fully glazed doors, much of the surface is glass, making it somewhat less thermally efficient.
Unique door with no maintenance worries
Every single door is fabricated at our own factory to fit exactly the specifications from each customer. This means that you will get precisely the door you want with respect to dimensions and appearance.
A minimal number of moving parts means maximally worry free and operationally reliable door. After its installation, the folding door will easily last the next 20 – 30 years with just a bit of maintenance. If you do anticipate having maintenance needs more frequently, you can sign onto our Findoor Carefree Contract, whereby you will outsource the maintenance to us.
Ask our experts about more options
The folding doors can be equipped with wireless remote control mechanisms. One remote control device can open or shut up to four doors simultaneously. The doors can also be fitted with electric eyes, or the doors can be opened simply by having a pushbutton switch mounted to the wall.
You could also get folding doors with windows in the panels or with panels completely glazed. The windows are made from double paned thermal glass units, which retains clarity for tens of years. The fully glazed folding doors are manufactured by framing the glass units with aluminum, 2" in thickness. These panels are then joined together with exactly the same parts as the normal folding doors are. The fully glazed folding doors are a splendid choice at, for example, car dealerships and fire stations, where the doors must be stylish and create no obstruction for the visibility of the interior spaces.
CE-approval for manual and machine operated folding doors, EN 13241-1
CE-approval for EI30 fire resistant folding, SFS-EN 1634-1
Water proof: 3 EN 12489 and EN 12425
Wind pressure: 4 (up to 4 meters height) EN 12444 and EN 12424
Airtightness: 4 (depending of the door size) EN 12427 and EN 12426
What kind of worker lifting devices must I order for the installers?
If the door opening is more than 10 ft high, we will need an electric powered worker lifting device for the installation day.
The best lifting platforms:
For an inward opening folding door: a battery-powered scissor-lift platform
For an outward opening folding door: a trailer mounted articulating or telescoping boom platform lift
If the folding door will have chain drawing opener/closers, then we will need two separate worker lifts
Lifting device requirements:
One installer will be able to work at the elevation of the upper door jamb
The installer can control the lifting device from his elevated work station
The lifting device is able to carry one installer and his tools
What kind of guarantee does the door come with?
Our doors come with a two-year guarantee regardless of the delivery and instalment arrangement. The guarantee can be extended with a service contract.
Will the folding door make the usable door opening narrower?
The folding door is installed against the interior or exterior plane of the wall, and, when it is opened, the leaves fold into spaces located behind the door jambs. Therefore it will not narrow the door opening.
FinDoor is Canada's biggest manufacturer of folding doors. As an official FinDoor Dealer we ensure they are installed to the highest standards as well as that they work trouble-free. In this way, you can get guaranteed quality from FinDoor, designed to withstand use in Canadian working environments.
The energy efficient folding doors withstand hard, demanding workspace conditions. They are secure, easy to use and assuredly functional, and their thermal efficiency and weather tight qualities are among the best in the marketplace. FinDoor continually develops their products so that they always meet customers' needs even better.
We want to support you directly in getting a FinDoor for your shop/building.  
As a FinDoor dealer, we are trained with the highest customer service expectation in mind.
Folding Doors
Folding doors, which open sideways, have been designed to withstand tough demanding use and variable weather conditions without adversely impacting the surety of operation. You can also get the folding door equipped with opening machinery as well as with windows or completely glazed. This is an excellent choice of door for example barns, fire stations, shops or carwashes.
Tough Applications Need Tough Products
Tough applications demand tough products and when it comes to our stainless door systems there are no exceptions.
Choose the Stainless Door with Rust Resistant Features!
Tough, durable and attractive stainless steel panel combined with high quality stainless frame delivers the rust free qualities you need in harsh areas.
Delivers unequalled longevity, curb appeal and less maintenance; less expense to you.
Choose from a variety of sizes, hardware and options for your new or replacement needs.
Low Maintenance
Economy With Durability
Attractive Seamless Appearance
Excellent Energy Savings
Ease of Installation
Tough, Shatterproof 5/8" Five X-Wall Lexan™ Panels
Beveled Aluminum Stiles & Rails – No Watertraps!!
3" Angle Mounted Track – Up to 4' Highlift
Extended 1" Solid Keyed Shaft-
Headplates On Highlift Track Configurations
100,000 High Cycle Springs (up to 144sq. ft) or Counterweight System
Bottom Vinyl Bulb Weatherseal
Choose from a variety of mounting options
Our high-quality stainless steel entry doors are available with a variety of mounting options for your convenience.
Need something different for attaching to your new or existing building? Give us a call today and let our experience go to work for you.
CMU Anchors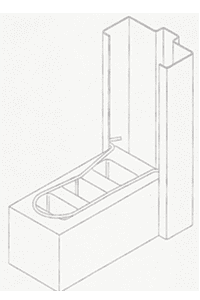 Snap-In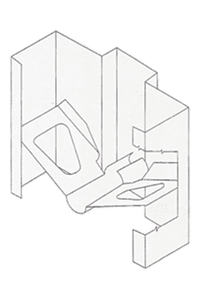 Masonry Anchors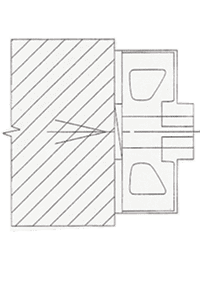 Base Floor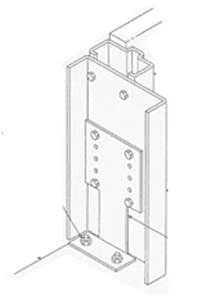 Header Girt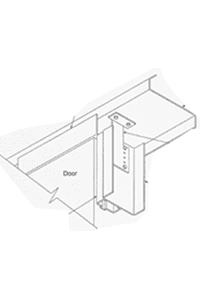 We have a door for all your needs
Let our experience with meeting custom situations go to work for you by giving us a call today at 1-204-371-8966 with your requirements!